DEALING WITH PERIODS

There are many girls who worry about periods for many reasons. They worry when they will have their periods, or where they will have it, or if they will have it easy. They also worry if it is OK to talk about it, and to who. Many girls expecting their first periods worry if it will delay, or they will be the first among their friends to have a period.

Some girls are sad that they will not be a child again or they are not quiet ready to be having periods. Sports girls worry how they will be able to perform during periods.

There are MANY things that young girls worry about periods. It is all normal. Here are a few things to note.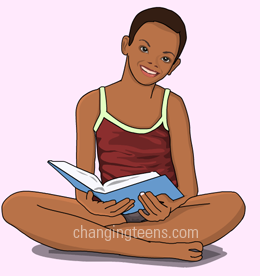 Learn and talk about it


Ask your mother, sister or another trusted female family member about their period-related experiences. Ask them for tips on how to work around it.



If you have friends of your age who are willing to share their stories, listen to them and learn from their experiences. Be sure that you only discuss this with trusted friends, as this is a very personal thing.



If your local health station or clinic has books or brochures on Periods, get them and read a bit more about what to expect and how to deal with them.
Be prepared


If you are expecting your first period, always make a mental note of what you can do if that happens.


Remember Periods can happen anytime without warning, often at the most awkward time. Your first period is likely to be just a little so don't worry. Try to tell an adult lady around whom you trust. They usually can assist you.


Be sure you always have a pad in your bag and school locker just in case it happens.

Be happy and get silly about it
Having periods regularly is a good thing. It is an indication that your reproductive system is functioning properly so there is no reason why you should not appreciate it. One way to take it easy is to make fun out of it and joke to yourself about it. It is not going anywhere soon so it is better you get used to it.

What to use: Pad or Tampon

Pad (sanitary or menstrual pads) are a favorite for women with less flow. It is also good for spotting between periods. Pads are used outside of the vagina, with tapes that stick to the underwear. They come in varied sizes and absorbency levels.
Tampons are those that go inside of the vagina. It is thought that many younger and active women prefer this, as it gives them better freedom during their periods. It is also known that tampon users have higher chance of urinary tract infections
Whichever types you want to use, make sure you read the instructions carefully and learn to use it properly.